Aircards, and what they mean
Hang on for a minute...we're trying to find some more stories you might like.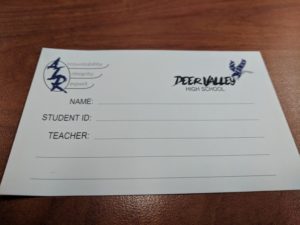 What you see above is an A-I-R card, which is distributed at Deer Valley High school exclusively. These are cards that are given by teachers on campus to students that show one of the three things that A.I.R. represents: Accountability, Integrity, and Respect. Some examples of showing one of the three things are: finding something of value and returning it to the front office, reporting an incident to teachers so they can handle it, and opening the door for a handicap person or holding their stuff for them. Those were some examples coming from Ms. Doucet herself- the head of the Aircard operation. So just doing kind things around campus will get you an Aircard.
According to Ms.Doucet, "We give the Aircards out because I think we don't recognize the things people do sometimes and we sometimes focus more on the negative, and I think people want to be recognized".
Now that we know why the Aircards are being distributed, let's try to show teachers how good we all are no matter what age or grade level. On to the back of an Aircard the teacher fills out the card which includes the name of the student, the student's ID, and what the student has done with the teacher's name on it. It doesn't take long for the teacher to fill out the Aircard in class since I obtained one myself in about 10 seconds. According to Ms. Doucet, "The teachers have been distributing them about all day long."
That would mean that all teachers have them and are able to give them out to students but the fact is that they are just not recognizing the kindness we are showing. Ms. Doucet states, "It's good that the students remind teachers also that they want an Aircard because sometimes teachers are busy and forget to handout the Aircards."
Coming from the assistant principal herself, we are allowed to ask for Aircards. So don't just wait for the teacher to give you one, ask them yourself. You can turn your Aircards in during lunch on Mondays and Wednesdays. There is a red bucket at the table next to the entrance doors to the cafeteria, you can't miss it. Ms. Doucet and Officer Brokschmidt are also right next to it. There is a mini food prize given to you once you submit your Aircard to the red bucket. Speaking of prizes, the full prize is given to the person who wins the Aircard draw on Fridays hence Ms. Doucet announces the winner. Once the draw has been done each week, the Aircards are not saved for other draws. So just save up and then submit them to get a better chance of winning the prize. The prize at the end of the week are $15 food certificates to a various number of places. The amount of Aircards that Ms. Doucet receives each week is around 30 cards which is a very low number considering on how many students there are at this school.
Ms. Doucet has prizes that will last her till spring time. So if you guys want to have other prizes that are of optimal price then just ask Ms.Doucet or consult with the student council since they are a part of it too. Finally there are special students picked out by Ms. Doucet herself who are appointed to give out Aircards if they see A.I.R. being acted and the teachers aren't doing their job. But there are only a few students who are appointed this job and you won't be able to find who they are due to them being so discrete. So now go out on campus and do acts of kindness and get AIRCARDS SKYHAWKS!
About the Writer
Christian Cohen, Review Writer, On-Call, Copy Editor
Hi my name is Christian Cohen and I am doing the reviews and reports on the breaking news from Deer Valley highschool on skyhawkflight.com. My hobbies...