Captain Marvel Movie Review
Hang on for a minute...we're trying to find some more stories you might like.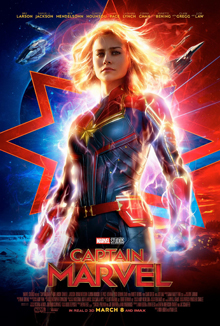 This is a movie that we have all been waiting for since Avengers: Infinity War and it prepares us for Endgame. Captain Marvel was by far one of the best installment in the MCU and has all categories for making a superhero movie which are: the action, full backstory/explanation, super-powers, and the main antagonist. Also don't forget about the signature move that the directors of Marvel movies put in their movies which is a secret ending.
Captain Marvel is about an extraterrestrial Kree warrior who gets herself caught up in an intergalactic war between her people and the skrulls. But she doesn't remember who she once was, hence she keeps having recurring memories about her past and who she truly was. Since this is mainly an origin story for Captain Marvel the setting that the movie takes place is in the 1990s with an appearance of Nick Fury, Phil Coulson, and more. I almost forgot to mention that she has a number of powers which include firing photon beams from her bare hands! This movie progresses at a good pace for the people who do not know her to understand what the heck is happening. Also if you have watched all of the other movies in the MCU, then you will earn a nice treat in seeing some references from them.
Brie Larson played as Carol Danvers (AKA Captain Marvel) and was great for the part. This movie was extremely close to the comics but not completely the same as you would expect from a Marvel movie. The plot went into depth and remained a course establishing a basis for Endgame. The character development for captain Marvel and other main characters were phenomenal. This movie also pulled a Ragnarok by making this an action comedy, but it looks like that they weren't even trying to make this a comedy movie which makes this such a great movie.
This movie is PG-13 for the action and some language. It's laying at every movie theater near you and is a must see movie if you end up going to watch Endgame in April. Overall I would give this movie a 9.5/10 for the character development, plot, secret ending, and enjoyable moments.
About the Writer
Christian Cohen, Review Writer, On-Call, Copy Editor
Hi my name is Christian Cohen and I am doing the reviews and reports on the breaking news from Deer Valley highschool on skyhawkflight.com. My hobbies...