Bruster's Real Ice Cream: opinion
Hang on for a minute...we're trying to find some more stories you might like.
Is Bruster's Ice Cream worth it? So if you have drove done the 51'st you would of noticed a new ice cream shop has opened and it is full on pack every time! When you arrive at this small parlor there is usually a 15-30 minute wait all the time, so at least it gives you a time to look over the menu which has a ton of different flavors and options. Some flavors include Purple Dinosaur to New York Cheese cake and the prices can very, a small waffle cone starts at 5.19 to 6.74 for a large and a cake cone for a small starts at 4.19 to 5.74 for a large.  I would recommend that you get the small sizes because the smalls are still very big and to also warn you the waffle cones are very sweet but still good.With this huge flavor option it is very hard to choose what flavor you want to try. For recommendations for a good ice cream choice would have to be the "Death by chocolate" flavor if you are into chocolate flavor, also the "Pistachio" flavor is good but I will warn you there is pistachio nuts in the ice cream. Would I say this ice cream is worth all this hype is, no. Don't get me wrong this is still very good ice cream but I don't think it's worth this very high price and long wait. I would say that this ice cream would be best to go out and eat on a special day then eating it on a daily basis.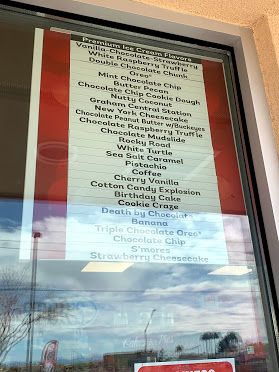 About the Writer
Joshua Neyes, Reviews/ Club Features, Print Videos/Photo Essay Story
Hello my name is Josh ! I like cats and Disney and also help in writing reviews and club. Happy to work with everyone!