Barnes and Noble, Starbucks, and Harry Potter all in one!
Hang on for a minute...we're trying to find some more stories you might like.
   If you ever frequented a Starbucks before you might usually get an iced coffee or maybe a fancy frappuccino that they have. Also if you ever frequented a Barnes and Noble they usually have some sort of cafe or coffee shop of some sort, the Barnes and Noble that is in the Arrowhead area has something special about it. The Barnes and Noble in Arrowhead has a Starbucks with a secret Harry Potter menu that is only served at that location! If you are a big fan of the books or movies like I am, you would be excited to see all of the choices of drinks that they have like, Polyjuice Potion, Dobby's Left Sock, and even their own makeshift Butter Beer that has frequented in the books and movies.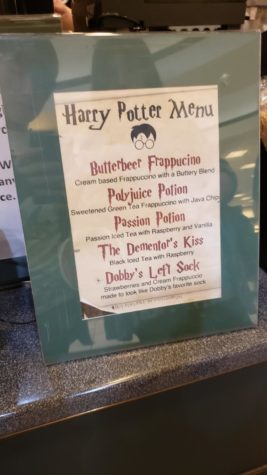 You would usually get a lot of these drinks at the Universal Parks in California, Florida, or Japan, I have visited the parks in California and Florida before and went to their Harry Potter Land and tried the Butter Beer (it has no alcohol in it) and it was fantastic! So when I saw this menu I just had to try the Butter Beer Frappuccino, the drink tasted very sweet and had a very big butter scotch flavor, I wouldn't say it's close to the drink that is in the parks but a good alternative. It wasn't my favorite drink to try but I would like to go back to try many of the other drinks they have there! If you are a big Harry Potter fan, I would recommend you to go to this Barnes and Nobles that is down in Arrowhead and try the different drinks out!!!
About the Writer
Joshua Neyes, Reviews/ Club Features, Print Videos/Photo Essay Story
Hello my name is Josh ! I like cats and Disney and also help in writing reviews and club. Happy to work with everyone!