Drama Club Review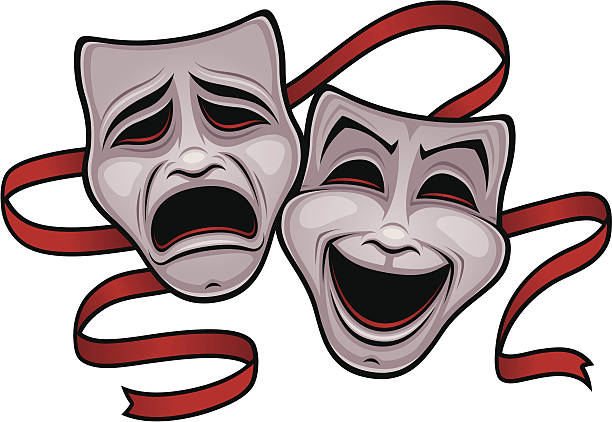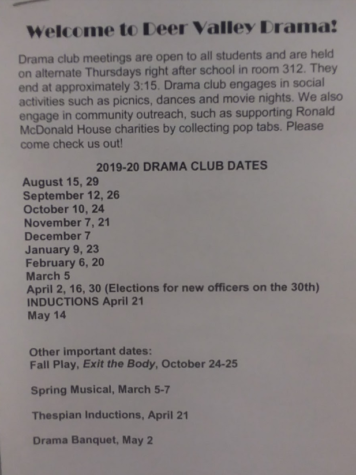 I recently had the chance to check out Drama Club and I asked the leaders of the club to tell me a little about it.
Lilly Milligan-Waddell "It's a lot of fun and it's not really that weird if you think about it. I know it gets boring sometimes and it gets boring for us officers too but we actually do a lot more than people think we do."
Elizabeth Bell "There's opportunities in drama club to meet people and also to learn things that you can use after high school, and there are scholarships available so it's not a waste of time."
Marissa Hainaes "So Drama Club is a really fun way for us thespians to come together and really anyone who wants to join can, to have fun and learn about things they didn't know before about drama."
Ms.Bell "Drama Club is a club for all students at Deer Valley High School who have any passion for theater, performing or behind the scenes. You don't have to be an actor to participate, you just have to love theater and the people. We meet about every other Thursday, we try to do community service and plenty of social activities. It's good to get involved in something when you're in highschool, and Drama Club I would highly recommend."
Nick Wilshire "Drama club is basically just a group of people who come together to promote their creative ideas. You can talk about anything with us, literally we are probably one of the most open groups on campus. You can talk about anything, and we'll talk about it with you, because one of us are probably interested in that exact same topic. This year we are trying to mainly focus on getting more students interested in theater, because it has a bad type of connotation, where people start thinking of people in theater as weird, as odd people or as different where they don't want to hang out with them. Well, I used to play baseball and I only hung out with people who were athletic, then I joined theater and I absolutely love it. So we just want to encourage the school to look at us in a different way and have open doors for anyone who wants to join and to express their creative ideas to the world. Theater is an art, just like art or music production. We have musicals, there is singing, even though it's a different type of singing. There's different musicals and different types of music, so we try to embrace their creative sides. We also want to invest in their future career because theater can also help in jobs and business, or any type of fine arts, it really helps with anything. Even in life going up to a job interview, if you don't know what to say, theatre will teach you how to improve it. Sometimes you have to go with the flow and do whatever comes next. That's what theater is, its helping you with the next step."
TL:DR Drama Club is really a club meant for anyone who wants to hang out, from baseball players to DnD geeks you can find just about anyone in here. Check the board outside room 312 or just scroll up a bit to check when the next meeting is so that you can go and have some fun.
About the Contributor
Michael Shaver, Reveiws/Club Feature, and Breaking News/On Call
Michael Shaver is a real human and a robot in disguise.