The Overall DECA experience!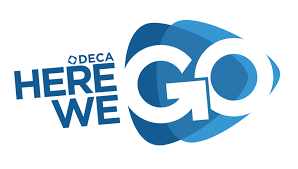 Every year DECA has a different theme. The 2019-2020 theme is Here We Go.
What is DECA? What's the overall message they portray? Why should I care? You may have a lot of questions, but I will surely answer them. DECA is a nonprofit organization for high school and college students. There are multiple events throughout the year that members and non-members can attend (events may vary).
DECA used to stand for Distributive Education Clubs of America, however, it changed after it expanded to international locations including: China, Germany, Guam, Puerto Rico, Spain, Canada and the District of Columbia. There are over 219,000 students worldwide, and over 2,000 in Arizona's 117 high school chapters. In each chapter there are officers and an advisor who helps run the events that occur during the course of the year. Our Deer Valley DECA chapter has seven officers, including myself, who run meetings and hold fundraisers at various places. There are also 9 state officers (one per district) who looks over activities, deliver advice to other students, and help run state events. DECA also has many business partners to help fund the program. Some of DECA's business partners include: Arizona Coyotes, Arizona Diamondbacks, Phoenix Suns, Marriott International, Whataburger, etc.
Now I know this sounds tedious, but before you doze off, DECA has an abundance of fun trips. The trips that we go on include: FLC (Fall Leadership Conference), WRLC (Western Region Leadership Conference), District Competition, SCDC (State Career Development Conference), and ICDC (International Career Development Conference). Every year the location changes for these events, excluding FLC (held at Chase Field) and District Competition (held at the ASU Tempe Campus).For 2019, ICDC was held in Florida, which was a 4 day stay. Then DECA stayed at Disney World and bought out Universal Studios for a day! Even the Blue Man Group performed at one of the assemblies. That is one of many guests that performed at the assemblies!
On top of the field trips to multiple destinations, DECA also provides multiple opportunities for young adults. Our competitions includes a "role-play" that simulates an interview or meeting and an entry exam specific to each conference that correlates to the series you're competing in. If you score a 70% or better on the exam, you get a medal of recognition. The scores of your exam and your role-play are combined for your overall score. You can also receive multiple scholarships through DECA and their business partners. Some can scale up to $10,000.
Multiple schools also have SBE's (student based enterprises) to help students understand customer service and how a business works in the real world after high school or college. Deer Valley's SBE's includes the Spud Wagon, which sells baked potatoes during both lunches every Thursday (coming back in September), and DECArated Cake Pops which creates and sells cake pops for events and parties.
Overall, DECA is a great program that teaches responsibility and professionalism to any/all students who participate. I personally used to have a difficult time conversing with other students and occasionally even teachers, let alone having stage fright while giving a class presentation. After being in DECA for over a year, my speech skills have improved and I can better deliver information to others ease. Not everyone is interested in DECA, but I personally recommend it to everyone who's a student here at Deer Valley and all schools. Here we GO!
About the Writer
Emyli Thompson, Social Media Manager, Reviews/Club Features
I'm a junior, a review writer for the school, and DV DECA's secretary.