The Phoenician – Review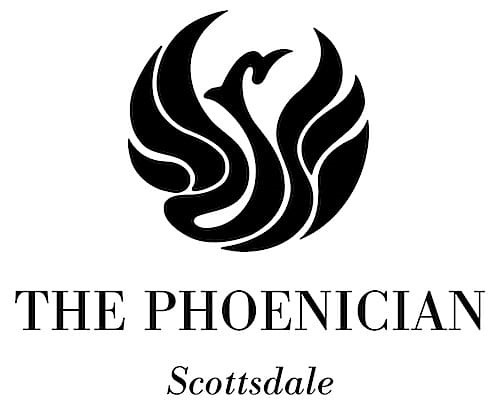 Hang on for a minute...we're trying to find some more stories you might like.
If you want to go somewhere with your family and have a blast, then I'd highly recommend checking out The Phoenician. The Phoenician is a hotel resort with many things and activities included with it. I have been going to this resort once a year for almost all of my life and The Phoenician has been getting better and better each year. What they have to do for fun there is swim in their magnificent pools, go to the water park included with the pools, go to the game room, and lastly there is a kids club that has many activities to keep children occupied while their parents go off and do their own thing. The Phoenician has an area span of at least a mile, so if you are only staying for a weekend you will always have things to look over at the resort and fun activities to do. This year they had made renovations to their whole hotel which made it look even more fantastic.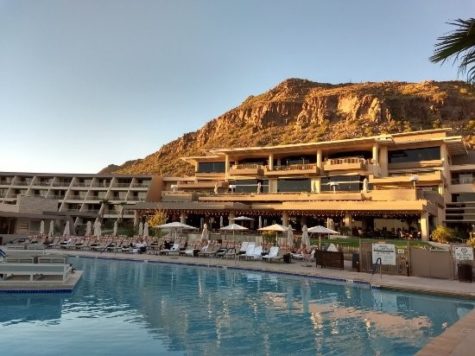 To be more specific, what they have there is an abundant of swimming pools in which there is an adult only side and a children's side. These sides are not limited to be on just one level of the ground, so there are two! Then on the swimming patio there is a bar, as well as a restaurant, outside for you and your buddies to hang out at. It is also included with a hot tub which is very relaxing and you won't have to worry about the infection rumors about hot tubs since the type of water they use for the hot tub is salt water which gives the utmost relaxation and gets you feeling invigorated to do the rest of the things at the pool area and at the rest of the resort. It gets even better since it also has a water slide that is at least 198ft tall according to the Phoenician. The slide is very fast paced and fun which may get you addicted to try it chronically, but I warn you to not go down the water slide when there is no water flowing down otherwise, prepare for pain. Hence, right next to the pool is the water park for kids and adults alike plus it has your average water park equipment that is too enjoyable that anyone would find fulfillment there. Finally, they have events at the pools on certain days of the week like on Saturday where they host a family friendly movie out by the pool on a big screen!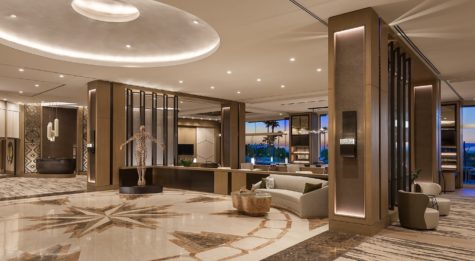 Now let's get to the décor of the place and check out different parts of the resort. When you drive in to get to the lobby, you will first see a huge golf course that is for everyone to enjoy, and not to mention there are multiple golf courses for everyone with a lake and everything. During your time viewing the golf course, right next to it is the Phoenician athletic center which has a Tennis court and their own gym for people to stay fit while they stay at the hotel, and included with the gym is their very own game room. The game room is pretty self-explanatory. It's like a hangout area that includes two free arcade machines, a pinball machine, ping pong, beanbag chairs, Jenga and multiple board games. Especially since it is IN Arizona, you'd think something like this wouldn't be here and would rather be in a richer place like New York, but you are sadly mistaken. Since it is just the beginning of your stay at The Phoenician, imagine what the rest of the resort will be like. In the lobby while you are waiting to be checked in there is some sort of rest area north of the check-in area where there is a big couch that is comfortable and also seats outside which can give you a whole view of the Phoenician from above. That is mostly what's at the lobby.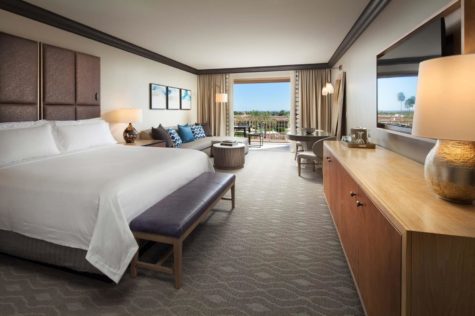 Now last but not least, the rooms you'll be staying at. The room will be like no other hotel room you have visited, since it has almost everything you need and more. You could have a suite, a room with one or two beds, but I'm just going to talk about the room with two beds. Overall what the room has is a mini fridge filled up with a variety of drinks including soda, water, juice, and alcohol. In the middle of the room on the wall between the 2 beds there is perfect vision of the 85-inch TV (maybe even bigger). Next, the room has a huge bathroom with an above average sized tub and an average sized shower included with everything else you would need such as: towels, shampoos, toilet paper, etc. The bathroom has a separate room where you do your business in so that no one can disturb you. Finally, it has a dimmer to adjust the brightness of your lights in the bathroom and two sinks with enough room to put all of your hair products, or cologne products. With the room it has a patio right outside so you can enjoy nature or just read a book without interruptions. The final thing that I am going to tell you about the room is that it has a chair and desk which are both convenient for putting your stuff on or just relaxing in the room. Although there are many extra things included with the room I don't want to spoil all of the surprises.
There is so much at The Phoenician that I can't put it all in just this one review. I guess you will have to see what The Phoenician has to offer for yourselves. Overall, I definitely would give this resort a 5-star rating because of the service, the quality of everything, and how many things you can do here. Oh yeah, I almost forgot that you can bring your PETS to the hotel too. So, I definitely recommend everyone to try this resort at least once in their lifetime, but do it during the summer since The Phoenician will be at its peak performance during that time of the year (even for Labor Day). The Phoenician is located at 6000 E Camelback Rd, Scottsdale, AZ 85251. The average price of a room is $315, it's good to have money on hand. I highly recommend you save up the money and spend your time there.
About the Writer
Christian Cohen, Review Writer, On-Call, Copy Editor
Hi my name is Christian Cohen and I am doing the reviews and reports on the breaking news from Deer Valley highschool on skyhawkflight.com. My hobbies...