The Critically Endangered Gharial
Hang on for a minute...we're trying to find some more stories you might like.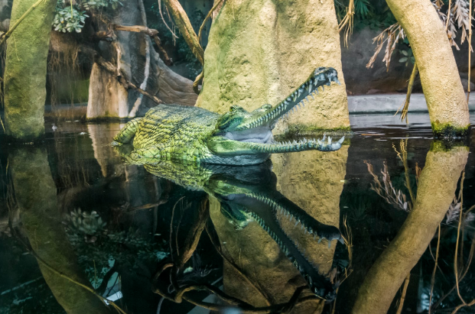 Gharials are a crocodile species native to Northern India. These crocodiles get their names from the growth on the male's snout called the "ghara". The male's gharas are used to attract mates by blowing bubbles and ripples through the water. They can grow up to be 15 feet long and weigh over 1,500 pounds. They have long, slender snouts and sharp teeth that are used to catch passing by fish. Gharials lay the largest eggs out of any other crocodiles, weighing around 6 ounces.  
     Gharials are yet another critically endangered species, over hunted by humans for their skin, meat, and eggs. Over hunting is when humans slowly destroy an entire species by killing too many of that species at once. When an animal is added to the endangered species list, hunting this animal is usually referred to as poaching. The law protecting these animals isn't always enough. Though these crocodiles are protected, fishermen still continue to kill them. There were an estimated 10,000 gharials in India in the 1940s. There are now around 200 breeding gharials in the wild.
    Male gharials don't reach sexual maturity until 15-18 years which makes it hard to breed them. There are several programs dedicated to breeding and restoring the population of these unique reptiles, including a program at Bronx Zoo, which bred 8 baby gharials in 2017. Sadly, there is not much information on current cases of successful captive breeding.
About the Writer
Amanda Piunno, Print/Video/Photo Essay Story, Reviews/Club Feature, and Social Media Manager
I draw stuff, like raccoons, and write about animals so that's epic.
I have an axolotl, a pitbull mix, a crested gecko, and a leopard gecko.