Deer Valley E-Sports!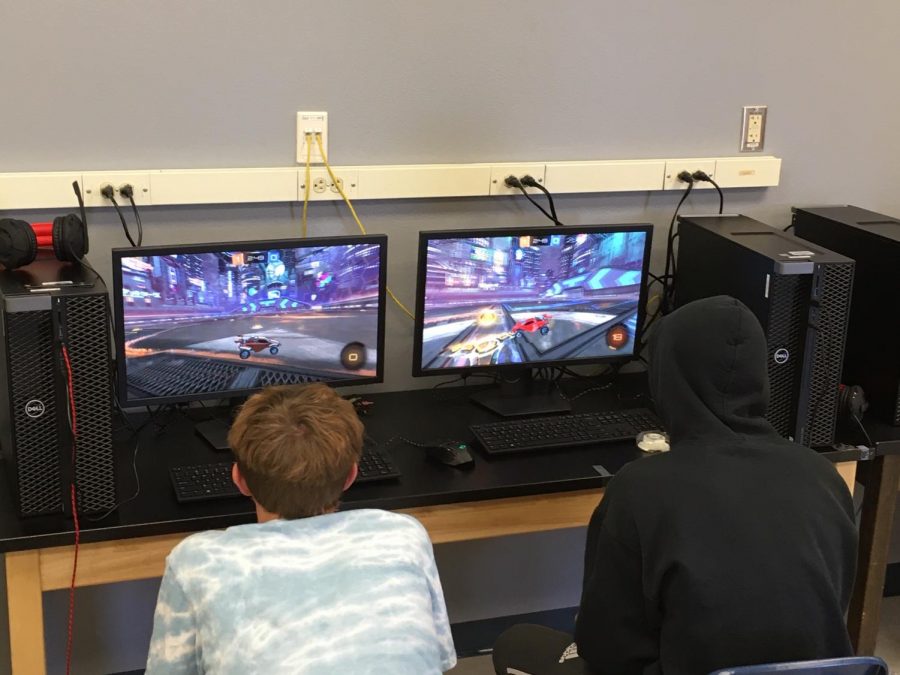 The 2019-2020 school year was Deer Valley High School's first appearance in e-sports. The e-sports team participated in the game known as Rocket League, a team-based video game closely related to the rules of traditional soccer. The head of the e-sports team at our school is Earth Science teacher Zach Skogen. We interviewed Mr. Skogen in hopes of getting a better understanding of e-sports.
Q: What encouraged you to take over the e-sports team?
A: I'm a long time Rocket League player, I initially was hesitant, but when they said we'd play Rocket League I was excited as it is my most played game.
Q: What games does your team participate in?
A: Rocket league for now, though we're looking to adding in Smash soon.
Q: What do you call the participants? How many of them are on the e-sports team?
A: It varies by game, Rocket league is 3 players per team, and we just call them players
Q: How long is the e-sports season?
A: It depends if you qualify for the playoffs and how far you make it, generally its October-January and February-April (two separate distinct seasons a year, unlike most sports that have 1 per year)
Q: Would you consider e-sports a club or sport?
A: E-sports is non-athletic sport in my opinion, instead of strength and athleticism you have reaction time and mechanics, it has all the components of a team sport minus the athletics, so it's closer to a sport than a club in my view. Strategy, rotations, team-work, reads, misleading your opponent, etc. are all still key factors. If you have played soccer or other team sports in the past it'll help you in Rocket League.
Q: How often does the team play?
A: Currently we have mandatory practices/events twice a week (Tuesday & Thursday) with most players also practicing with each other at home too.
Q: Is there a varsity and JV level or is it all one group?
A: Currently we have one functional Rocket League team that competes, for February I'm looking to have 2, but that depends on if we can get a 6th computer up and running and skilled and versed players to fully compete with 2 teams.
Q: What do your practices look like?
A: Tuesday practices are pretty casual, we typically start with mechanic practices and then rotate into ranked 3 v 3s to hone our skills. I look for behaviors that need to be adjusted that way we can try and change them for match day. Thursday practice takes place directly before our competition so we focus a bit more on game theory and positioning as well as subs, etc.
Q: Where do you guys practice?
A: The room held in my classroom, room 111.
Q: Do you have a long term plan for the future of e-sports? Can you anticipate any challenges that may come along with that?
A: Funding is likely the biggest challenge: getting equipment, paying for e-sports fees, chairs, additional computers, viewing stations, etc. just adds up quickly. For the future, I'd love to grow the program, get a fan base that supports us in matches, get e-sports jerseys made, and I'd love to win the state championship.
We had to go see the e-sports room for ourselves, which is located right next to Mr. Skogen's room. The most striking detail was the emptiness of the room. It was a converted science classroom with the only difference being a few desks with computers on the side. With new monitors and towers they had capable computers to run Rocket League, but they had basic headsets, keyboards, and mouses that meet the bare minimum to play the game. The room contains the regular plain black science desks spread around the room, with plastic blue chairs that are very uncomfortable to sit for long periods of time, especially for the full length of practice and competitions.
We are happy with the information Mr. Skogen gave us, and we encourage anyone who isn't in a club or sport to join. However, as Mr. Skogen previously explained, we agree that the e-sports club is underfunded. Unfortunately the e-sports room isn't the dream game room we'd all want to play in; it's just a classroom with above average computers and the sad plastic blue chairs.
Regardless, our e-sports team keeps playing and winning despite their hardships and downsides.  The team keeps their heads up because the game still goes on.
About the Writers
Michael Castaneda, Publicity, Social Media Manager, and Ad Sales
I love warm waffles in the morning with syrup and milk, chicken nuggets for lunch, and a nice rare steak for dinner
Jackson Bledsoe, Publicity and Ad Sales
I'm pretty good at math. Please contact me at [email protected] for all math-related inquiries.
Dominick Woodward, Publicity, and Ad Sales
I'm irresistible to women