Popeye's v. Chick fil A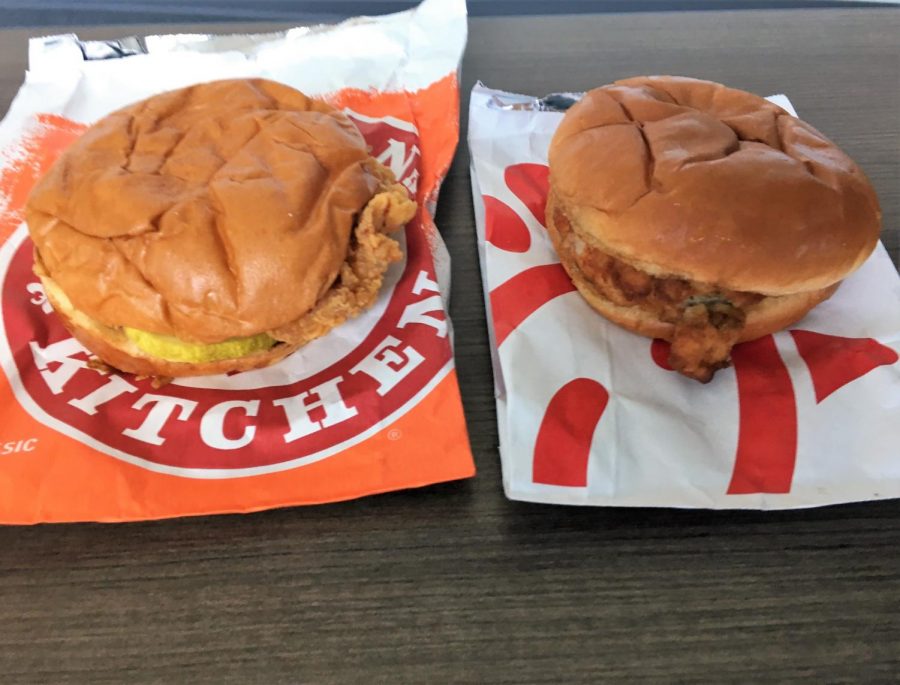 The great debate of the two fast-food restaurants over who has the best chicken sandwich all started on August 12th when Popeyes announced a new fried chicken sandwich for the first time ever. This news shocked us and the rest of the internet, including the people who have never even heard of Popeyes.
According to a poll on Twitter conducted by user @USATODAYmoney, 54% of voters were in favor of Chick-fil-a whereas 46% were in favor of Popeyes.
Photo Courtesy of @USATODAYmoney/Twitter
The sandwiches are mostly similar, they both are hand-breaded chicken breast served in a toasted bun with dill pickle chips. However, Chick-fil-A claims to have been selling their Original Fried Chicken Sandwich since the 1940s.
The two competitors are aware of the feud and have been firing shots at each other, both to gain popularity and exposure, also while trying to achieve superiority. This "beef" has actually led to many individuals to buy both sandwiches and do a side by side tasting and make the final call for themselves.
In order to get a taste of the sandwich, we interviewed multiple students at our school that got the chance to experience the Popeyes Chicken Sandwich.
Paul, sophomore, was one of the first people we interviewed. He informed us that he had to wait "around 20 to 30 minutes altogether, the line wait was around 15 minutes because there were just so many people there wanting the sandwich." Paul's first impression of the nationally anticipated sandwich was normal, so he didn't think much of it; until he bit into it. Then his whole perspective changed. "The flavor was very good and the texture of the chicken was crunchy" Paul enjoyed eating the sandwich, and even went to say "everything about it was amazing, but if popeyes had a sauce it would be so much better."
Logan, sophomore, didn't have quite the same experience as the others we interviewed. He didn't have to wait in line for a long time, about 5 minutes, and he said something was off about his sandwich. "Too much mayonnaise in it," he said about the sandwich. At the end of the interview, when asking the final question: "Is Popeyes or Chick-fil-A better?", he stated that Chick-fil-A was ultimately better. "The Popeyes Chicken Sandwich wasn't a bad sandwich, but comparing it to Chick-fil-A, it wasn't great."
We interviewed two more people, but we had to cut their interviews for length purposes. However, they were both in favor of Popeyes.
We have come to the conclusion that Popeyes is the better restaurant. Sorry Chick-fil-A lovers, but we have a new king. Go try it for yourself at participating locations and let us know what you think.
About the Writer
Dominick Woodward, Publicity, and Ad Sales
I'm irresistible to women