Monday, Aug. 31
Happy fifth week of school, Skyhawks! Please enjoy this inspiring quote from the Make A Difference (MAD) club: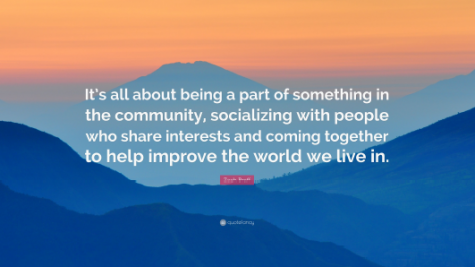 COLLEGE HELP: If you need help with your college applications, I will be offering help with any applications today, Monday, 8/31 at 2:15pm. Feel free to join the Zoom and work on your applications and you can ask any questions that you get stuck on. Email Mrs. Price at [email protected] for the Zoom link.
AIR CARD WINNER: Congratulations to 10th grader Isabela Ulibarri who received an A.I.R card last week and was drawn for Friday's gift card!
SENIORS AND JUNIORS PARKING: You may now apply for your parking pass at this link: https://url.dvusd.org/89af5bd2
You should log in through your learner.dvusd.org account, and be ready to upload readable copies of these four documents, or else your application will be denied:
The DVHS Student Parking Rules and Regulations- signed by both the student and the parent/guardian (Picture, PDF, or Document)

Valid Graduated Driver's License & Student ID (Picture, PDF, or Document)- Arizona Instructional Permits will NOT be accepted. *If you cannot locate your student ID, please enter your ID number in the appropriate question. We will look it up this year.

Current proof of vehicle registration; for all vehicles listed (Picture, PDF, or Document)

Current proof of insurance; for all vehicles listed (Picture, PDF, or Document)
DV GRADUATE WINS CONTEST: Our recent graduate Evie Nguyen, class of 2020, won a design contest and an entire bus is now decorated with her amazing artwork! Congratulations, Evie ~ not many people can say they designed an entire bus!